---
Lavish, a sophisticated, inviting salon located in the heart of south Calgary. Lavish combines modern, yet vintage aesthetics creating a progressive and chic atmosphere to provide our clients with first-class service and catering to their every desire that has long been overlooked by today's fast-paced society. We invite you to experience Lavish today.
---
Color Bar and Texture Services
Re-growth color touchup $71+
Solid full color $91+
Highlight/ Lowlight $93+
Partial Highlight $76+
Color Gloss $59
Men's Camo Color $30
Perm $94+
Our price structure reflects the individual stylist, and is determined by education, training and practical experience.
Extra charges may apply if extra time or extra product is needed.
Lavish Hair
Ladies Cut $37-$72
Mens cut $26-$49
Girls (11-15) $26-$49
Boys (11-15) $24-$39
Children $23-$36
Up Style $54+
Special Occasion Hair $49+
Blow Outs & Sets $29 -$51
Our price structure reflects the individual stylist, and is determined by education, training and practical experience.
Extra charges may apply if extra time or extra product is needed.
Lavish Treatments are customized to fit your individual hair type
Dry • Fine • Brittle/Fragile • Rebellious/Curly •Lifeless/Dull • Colored/Permed/Relaxed
Cat Reconstructing Protein Treatment
$7-$14
Contains patented taurine technology and cationic proteins to help reconstruct and prevent future damage without adding weight to the hair.
Chemistry Treatments $15-20
Redken Chemistry is an in-salon service that your Stylist customizes for your hair needs. This treatment can help repair distressed hair. Your Stylist can customize a treatment for you that can improve your hair in several ways: increasing the strength of your hair; repairing chemical or mechanical damage (from blow dryers or flat irons); making dry hair soft again or unruly, frizzy hair smooth.
.
.
Deep Love Treatment $7
Enjoy this deep conditioning moisture mask, that will specifically target your hair's needs. A consultation with your stylist pre-treatment will give you valuable information on your hair type and recommendations on how to maintain the treatment at home!
Lavish Hair Clarifying Spa $30
This three step custom conditioning system will leave your hair repaired, replenished and revived! This treatment is great for any hair type but, especially great for over processed, damaged, or brittle hair! We start by removing any environmental or product build up then a custom chemistry shot is applied with a scalp massage. The final step is a deep, heated moisture mask! It's absolute bliss!
Extra charges may apply if extra time or product is needed.
Makeup Services
Basic Makeup Application $45+
Bridal Makeup $50+
Eyelash Application $12
(includes strip lashes)
Packages
The Essential Bridal Package
$250
This package includes two styling sessions (trial and day of) and two makeup applications (trial and day of), as well as a Lavish Salon Bridal Touch Up Emergency Kit!
Mini Essential Package $110
This package is for the day of the big event, it includes one styling session, one makeup application and a Lavish Salon Touch Up Kit! Perfect for the wedding party, prom or graduation!
.
.
Everything but the Little Black Dress $130
This package starts with a sunny glow from a custom airbrush spray tan. Next you'll receive a shampoo, blow dry and style, followed by a makeup application. You deserve it!
.
.
Please book appointments in advance as some packages require multi-day bookings.
---
---
---
Services
Makeup Application $45+
Bridal Makeup $57+
Eyelash Application $12
(includes strip lashes)
Mirabella
Lavish has changed and expanded our makeup line and offering more related services! We are excited to carry a new line called Mirabella.
Mirabella foundation collections offer a broad range of shades allowing women of all colors to find products that are perfect for them! Mirabella has made it simple to select the correct shade by basing its foundation shades on the Fitzpatrick Skin Type System
Airbrush Tanning
Booster Bronze Tan $45
Our most popular tan, perfect for a vacation or special occasion.
Jantana Competition Tan $98
Natural Glow Tan $42
Light to sunkissed tan, natural and fresh.
Shimmer Enhancer $4
Buy 3 tans and receive 10% off
Buy 5+ tans and receive 20% off
Q: How should I prepare for my tan?
A:
Gently exfoliate before coming and don't apply any lotions, deodorants or makeup. These products will block your skin from properly absorbing the tan and will alter your tan results!
Q: What kind of machines do you use?
A: Lavish uses the highest quality HPVL airbrush tanning machines and tan formulas to create a healthy, sexy, sunless glow any time of year!
Q: What should I wear to and from the tan?
A: It's a good idea to wear dark clothes. Although there is not much of a transfer after the tan it may still show up on white clothes. It will wash out of most fabrics easily but avoid wearing silks. After your first shower the tan won't transfer on to your clothing.
Q: What do I wear when I'm getting the airbrush tan?
A: It's completely up to your personal comfort level. Some people don't like tan lines so they go with nothing. Lavish will provide disposable bottoms but if your prefer to wear your own top or bottom, that's fine too! However, men are required to wear underwear or a provided disposable bottom.
Q: How do I decide how dark to go?
A: Your tan technician will have a consultation with you and analyze your current natural skin tone. They will discuss what your looking for, and use the information to custom blend your tan.
Q: Will it be Orange?
A: NO! The formulas Lavish Airbrush Tan uses are of the highest quality and technology so the tans always come out natural and golden. Our trained technicians will custom mix a formula specifically for your skin tone and type.
Q: How long does it last?
A: Depending on your skin type, how often you exfoliate and moisturize, a typical expectancy can be about 5-10 days. To maintain your tan we recommend getting a tan every 7 days. Being in a chlorine pool or hot tub with fade the tan more quickly but not completely.
---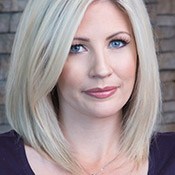 Shellene Mason
---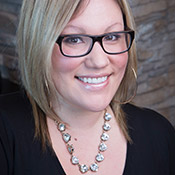 Lindsay Kelly
---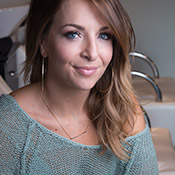 Lisa Pallone
---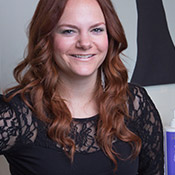 Heather Marshall
---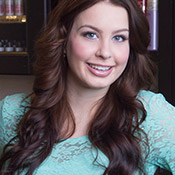 Nikita Hofer
Hairstylist
Makeup Artist
---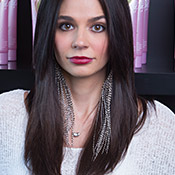 Ronnie Geddes
---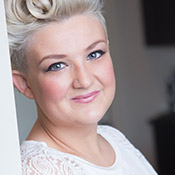 Crystal Stirrat
---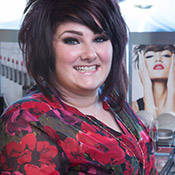 Zoey Williams
403.244.5162
9919 Fairmount Dr SE Calgary AB
Hours
Sunday: Closed
Monday: Closed
Tuesday: 10am – 9pm
Wednesday: 10am – 9pm
Thursday: 10am – 9pm
Friday: 9am – 7pm
Saturday: 9am – 5pm
Do you have a passion for the beauty and fashion industry? Are you looking to learn and grow within a friendly, team environment? We're hiring career minded hairstylists.
Lavish provides special training programs, apprentice programs, ongoing educational support, sales incentives and promotions, team building events and activities, one-on-one success coaching and proven goal setting and tracking systems.
Please send your resume to Shellene.